5th Bioproduction Congress
Quality Assistance participes to the 5th edition Bioproduction Congress 
The 5th edition Bioproduction Congress will be held on 29 and 30 September in Lyon (France) and will bring together experts from companies and laboratories developing therapeutic candidates as well as leading bioproduction professionals to accelerate therapeutics drugs such as mAbs, vaccines, cell therapy and novel products into commercial manufacturing.
Partner with a leading analytical CRO
Quality Assistance is a leading European Contract Research Organisation providing the pharmaceutical industry with all the analytical services required by EMA and FDA regulations for the development and marketing of innovative human medicinal products.
The company holds a unique place on the market with all of its laboratories on one site, 190 highly-qualified professionals and more than 35 years' at the forefront of analytical sciences.
We assist our clients from candidate selection, through non-clinical and clinical studies, to marketing authorisation, using our state-of-the-art, product-dedicated expertise in analytical sciences. For each customer and each project, we design customised solutions, define analytical protocols, develop and validate specific new analytical methods and perform characterisation, stability, pharmacokinetic, biomarker and immunogenicity studies as well as batch release testing, in order to evaluate the Quality, Safety and Efficacy of the given drugs.
Product-dedicated expertise
NBEs
To accelerate the development and marketing of your NBEs, Quality Assistance offers a complete analytical package to meet the EMA and FDA requirements, all on one site. Whether it is to extend your analytical capacities or outsource parts or all of your analytical needs, our skilled teams are here to support your developments of mAbs, ADCs and proteins.
Vaccines
Whatever the type of antigen, Quality Assistance covers a wide range of analytical technologies needed to support vaccine development, including product characterisation, development and validation of analytical methods, stability studies, batch testing and bioanalysis to support immunogenicity and protection studies.
CBMPs
Quality Assistance offers extensive experience with analytical development and validation and GMP/GLP compliant laboratories to assist in the development of your cell-based medicinal products.
Scientific presence
Arnaud Delobel, R&D Director at Quality Assistance is member of the Scientific Advisory Board of the 5th edition Bioproduction Congress. He will present on "Automated characterization of monoclonal antibodies in cell supernatants by 2D-LC/MS"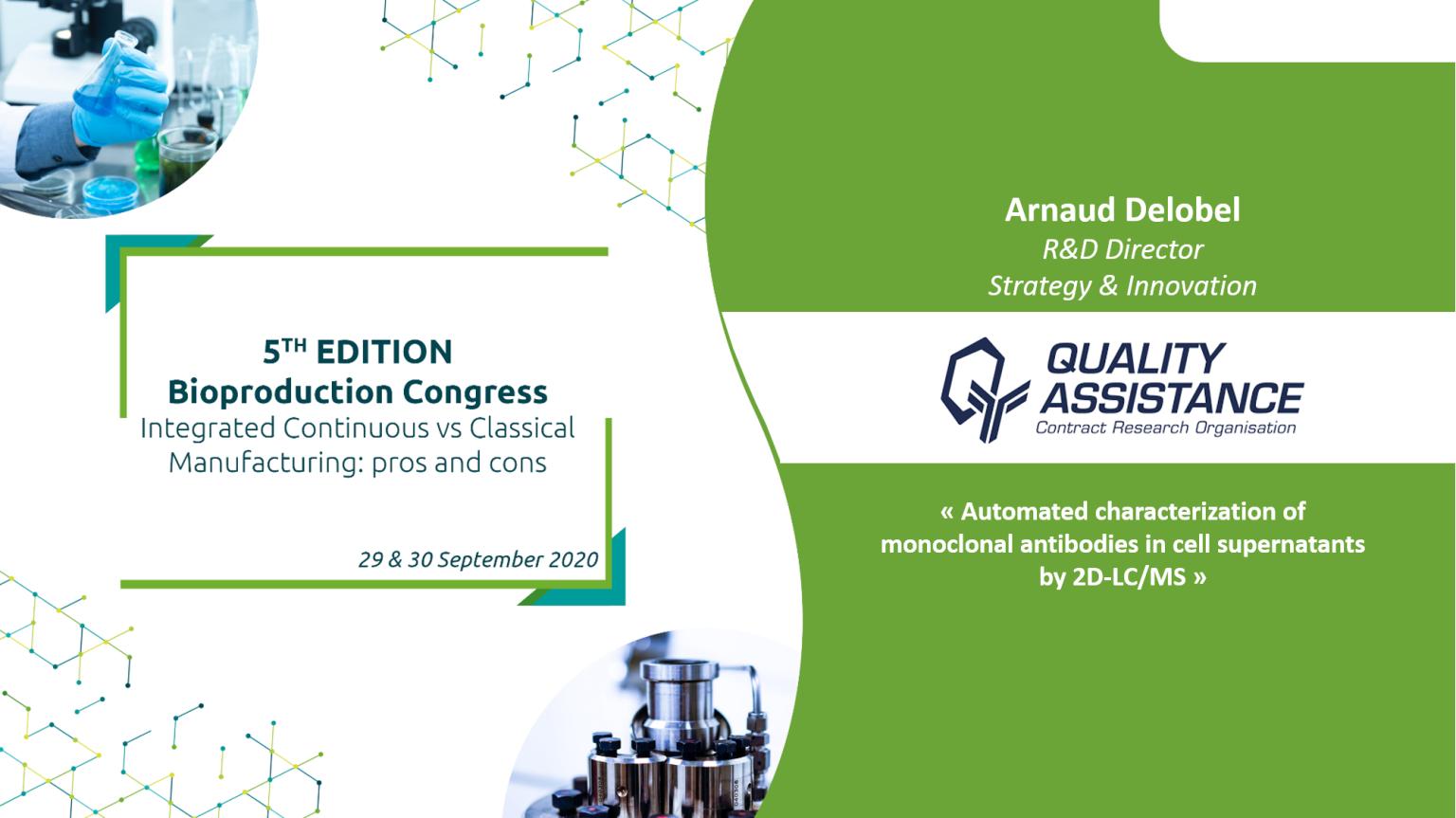 Don't miss out this congress! 
Stay up-to-date with the next generation bioproduction trends and technologies and exchange with the leading experts in the field.
Click here for more information.