Scientific Library
Welcome to our scientific library!
Explore more of our expertise, R&D findings and analytical know-how by accessing this large portfolio of documents compiling both technical and regulatory information.
Study & Technical sheets
Luminex

Multiple biomolecules quantification in biological fluids

Cytokine Release

Comparison of multiplex and simplex assays

PEGylated Proteins

In addition to all the analytical tests proposed for proteins, Quality Assistance has developed specific methods for the analysis of PEGylated proteins.

In-use stability studies
Publication & Application notes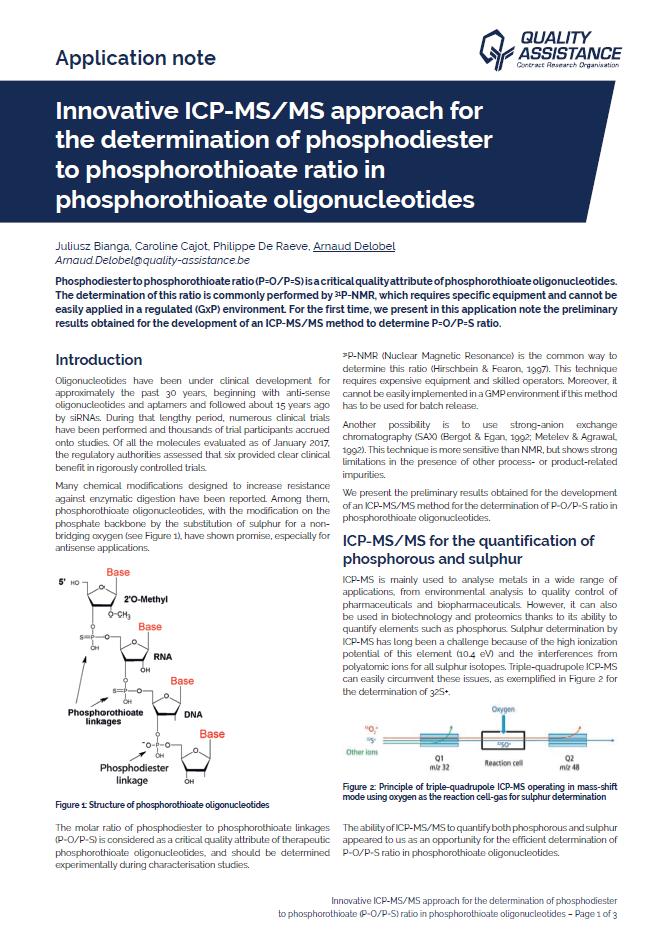 Innovative ICP-MS/MS approach for the determination of phosphodiester to phosphorothioate ratio in phosphorothioate oligonucleotides
Phosphodiester to phosphorothioate ratio (P=O/P=S) is a critical quality attribute of phosphorothioate oligonucleotides. The determination of this ratio is commonly performed by 31P-NMR, which requires specific equipment and cannot be easily applied in a regulated (GxP) environment.
Stress testing of Humira (adalimumab) monitored by Hydrogen-Deuterium Exchange Mass Spectrometry (HDX-MS)
In this application note, we present how this technology can be used to monitor structural changes at the amino acid level during stress testing studies of a monoclonal antibody. This appreach can be applied similarly to stability studies. 
Conferences
Q3D - Elemental Impurities
What implications for APIs & excipients suppliers?
15th Oct 2015

Stress testing and physico-chemical characterisation of mAbs
The approach of an analytical CRO
24th Sept 2015