CPhI WorldWide 2017
Quality Assistance exhibited at CPhI WorldWide !
CPhI Worldwide, together with co-located events ICSE, InnoPack, P-MEC and FDF, hosts more than 36,000 visiting pharma professionals over three days.
All eyes were on Frankfurt that week with visitors establishing new business relationships, meeting with global partners and staying updated on the latest industry trends.
Representatives from our business development team were there to welcome you at our stand. 
Quality Assistance is the one-stop shop for analytical services thanks to its unique position on the market with:
all laboratories on one site

150 highly qualified professionals

35 years' expertise at the forefront of analytical sciences
Here are some of the analytical advances we'll be presenting at CPhI Worldwide:
ICH Q3D compliance: analytical testing and risk assessment consultancy
On January 1st 2018, all new and existing drug products will have to comply with the ICH Q3D guideline for elemental impurities. Although this guideline sets specifications for drug products only, the risk assessment approach also involves the determination of metallic impurities in APIs and excipients.
As a Contract Research Organisation whose aim is to provide its customers with up-to-date analytical solutions to bring innovative medicines to the market, Quality Assistancehas the tools and know-how to offer risk assessment consultancy and perform the requested analyses.
For almost 6 years, Quality Assistance has allocated resources to develop and validate generic methods which are efficient, rapid and ready-to-use. Our experts offer scientific and technical support to help you in the design of an appropriate risk assessment strategy, to establish the best control strategy, and to carry out the necessary analytical determinations and validations. We provide you with a complete dedicated analytical service with 5 ICP/MS systems in a cGMP certified environment, and expert advice for risk assessment and control strategy design.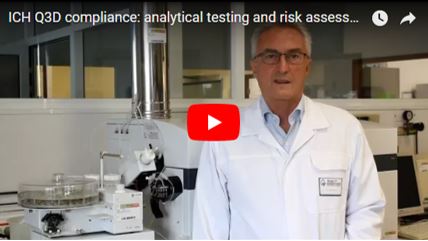 Structural characterisation of biopharmaceutical products
Quality Assistance strives to provide its customers with tools to better understand analytical results.
Quality Assistance now offers state-of-the art hydrogen-deuterium exchange mass spectrometry (HDX-MS) analysis to learn more about proteins structures, stability and binding.
HDX-MS is a way to better characterise the product and to have more insights of the structural features that can have an impact on the biological activity of the sample. The applications of HDX-MS in our lab mainly focus on batch-to-batch consistency assessment, comparability after process modification but also for the analytical comparability testing of biosimilars.
Characterisation of ADCs by High-Resolution Mass Spectrometry
Due to their mode of production and conjugation chemistry, antibody-drug conjugates are complex and heterogeneous molecules. Their analysis usually requires the use of many orthogonal analytical techniques in order to fully characterise their different variants and drug-to-antibody ratio.
Mass spectrometry (MS) is a technique that is now widely used for biopharmaceuticals characterisation. Thanks to innovations in both hardware and software, these techniques can now be used routinely.
In addition to the typical LC/MS workflows aimed at mAbs characterisation, Quality Assistance has developed a comprehensive set of methods to characterise ADCs at the intact, subunit, and peptide levels. These methods are applicable to any conjugation chemistry (lysine- and cysteine-linked or site-specific conjugates).
Quality Assistance provides full characterisation of therapeutic proteins by high-resolution mass spectrometry (HRMS) and has the tools to support you for the characterisation of ADCs, QC and stability studies. 
Venue:
Messe Frankurt GmbH
Ludwig-Erhard-Anlage 1 60327 Frankfurt a.M., Germany  
More info and registration: