EuroTIDES 2018
Amsterdam, the Netherlands
Quality Assistance attended EuroTIDES !
With more than 300 Oligonucleotide and Peptide Scientists and executives & 40+ case studies and new data presentations, EuroTIDES improves delivery and drive products to market through expert insight, new data and technology.
With more than 35 years' experience, Quality Assistance has become a leader in analytical sciences and holds a unique position on the market with all its laboratories on one site and 170 highly qualified professionals.
Development and validation of analytical methods for:
Quality - CMC:
• Characterisation
• Stability studies
• Batch testing
Safety & Efficacy - Bioanalysis:
• PK
• Immunogenicity
• Biomarker studies
Oligonucleotide expertise
Due to their relatively large size as compared to typical small molecule drugs, there are many technical challenges associated with the analysis of these molecules. With a highly experienced staff and state-of-the-art premises and equipment, Quality Assistance is your partner of choice to overcome your analytical hurdles and facilitate the registration process.
Peptide expertise
Therapeutic peptides are at the crossroads of small molecules and proteins, requiring specific analytical packages depending on whether they are of recombinant or synthetic origin. Quality Assistance provides customised solutions in terms of analytical protocols and innovative technologies to help you move your peptide through non-clinical and clinical development towards registration.
Oral presentation
Dr Philippe De Raeve, Scientific Director, presented on "Oligonucleotides: absolute quantification and P=O/P=S ratio in a single ICP-MS/MS run".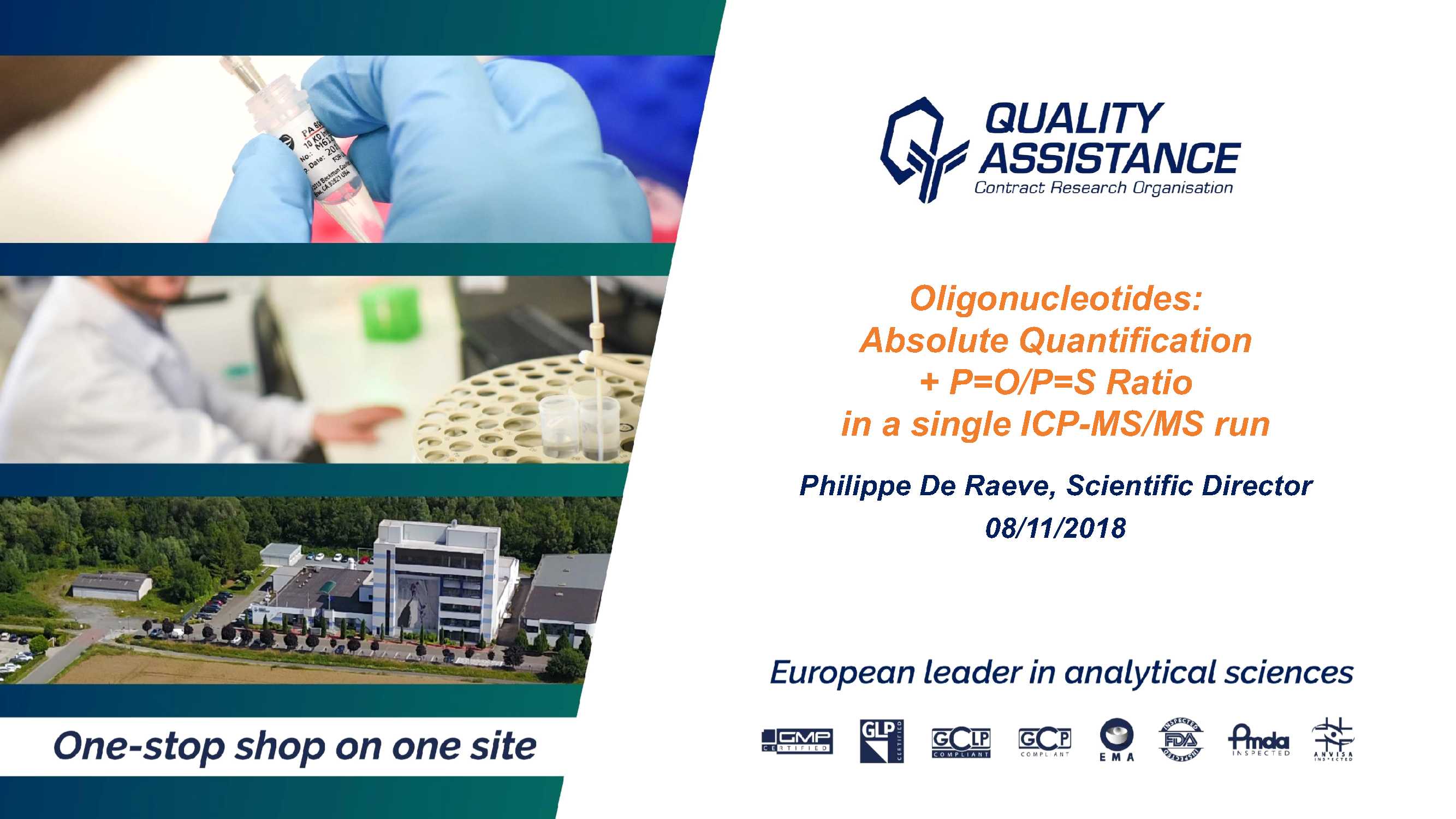 Venue:
Postillion Hotel Amsterdam
Paul van Vlissingenstraat 8,
1096 BK, Amsterdam,
Netherlands 
 
More info and registration: