New equipment for viral vector analysis
Building on its considerable experience in the analysis of complex innovative drugs, Quality Assistance is continuously advancing ways to support the development of your products and expanding its related machinery and equipment. Our latest equipment acquisitions contribute to meeting the growing demand of our clients and to continue to develop our expertise and services dedicated to more emerging markets, including viral vectors.
Check out our latest installations on our unique site in Belgium:
Wyatt systems
Our new DAWN® SEC-MALS System, ECLIPSE® AF4 System and Optilab® Multi-Detector System (Wyatt Technology) are 21 CFR Part 11 compliant and can be then employed in a GxP-compliant environment. With 15 years expertise with (SEC-)MALS systems and method development, this state-of-the-art equipment adds up to our capabilities for viral vectors, biotherapeutics, vaccines and mRNA-based therapies analytics.
In this interview, Arnaud Delobel, R&D and Innovation Director at Quality Assistance, talks to NewsMed-LS about the emerging field of gene therapy with adeno-associated viruses (AAV).
Click here to access the written interview
ddPCR 
The QX200™ droplet digital PCR system (Bio-Rad) provides absolute quantification of target DNA or RNA molecules without the use of standard curves and it designs scalable assays for high sensitivity or high throughput. The QX200 system uses advanced microfluidics technology to achieve partitioning on a massive scale, generating 20,000 highly uniform nanoliter-sized droplets per sample. Compared to qPCR, also available at Quality Assistance, this equipment is essential for viral vector analysis and provides a more precise and sensitive solution for a wider range of applications, such as
the detection of residual DNA,

determination of the viral vector genome integrity,

viral vector particle determination,

quantification of viral load,

distinction of genomic variations,

gene expression studies

and much more.

Automated immunoassays
The Gyrolab xPlore™ (Gyros Protein Technologies) is an automated immunoassay solution that provides increased data quality and reduced hands-on time.
This solution is used for various applications amongst which
determination of capsids concentration,

quantification of impurities (HEK293, endonuclease)

and more (PK/TK analysis, immunogenicity, biomarkers quantification).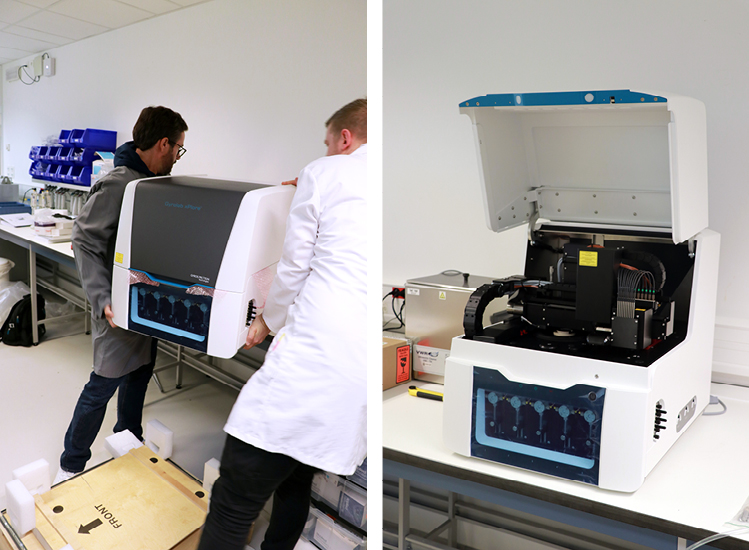 Contact us for more information