[OLIGNUCLEOTIDES] Absolute quantification and P=O/P=S ratio in a single ICP-MS/MS run
Access now this new article published in Elsevier Journal of Pharmaceutical and Biomedical Analysis
Authors: Juliusz Bianga, Magali Perez, Damien Mouvet, Caroline Cajot, Philippe De Raeve, Arnaud Delobel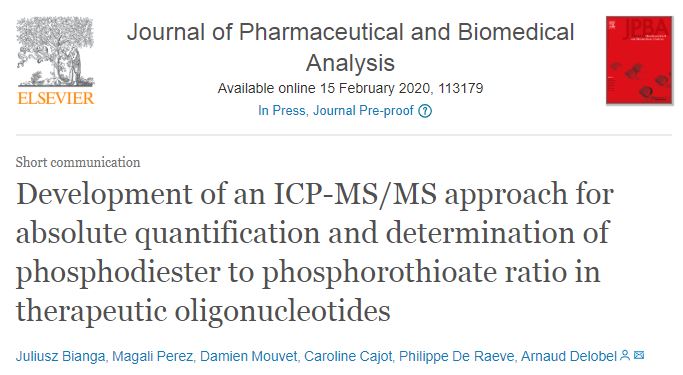 Highlights
Absolute quantification of oligonucleotides based on phosphorus content

Determination of phosphodiester to phosphorothioate ratio

Readily applicable in a GMP environment for characterization and batch release
Abstract
A new analytical method based on ICP-MS/MS is proposed for the characterization of synthetic phosphorothioate oligonucleotides. Absolute quantification of oligonucleotides is challenging, as well as the determination of phosphodiester to phosphorothioate ratio for phosphorothioate oligonucleotides. Both are considered as critical quality attributes and should be determined using robust validated methods.
The method we developed was designed to be easy to apply, fast, and robust. It allows simultaneous absolute quantification of an oligonucleotide (based on the quantification of phosphorus), determination of the phosphodiester to phosphorothioate ratio (based on the quantification of phosphorus and sulfur) and optionally determination of sodium (or any other metal) as a counter ion. The performance of the method was demonstrated on O,O-diethyl thiophosphate potassium salt, a well characterized model substance that possesses similar composition to phosphorothioate oligonucleotides. Method was also tested on different synthetic phophorothioate oligonucleotides, showing excellent accuracy and precision.
More scientific resources on this topic
Contact us for more information
Are you developing therapeutic oligonucleotides? With a highly experienced staff and state-of-the-art premises and equipment, Quality Assistance is your partner of choice to overcome your analytical hurdles and facilitate the registration process.
Visit https://www.quality-assistance.com/products/new-chemical-entities/oligonucleotides for more information on our expertise and analytical services.