Analysis of therapeutic mRNA by orthogonal separation methods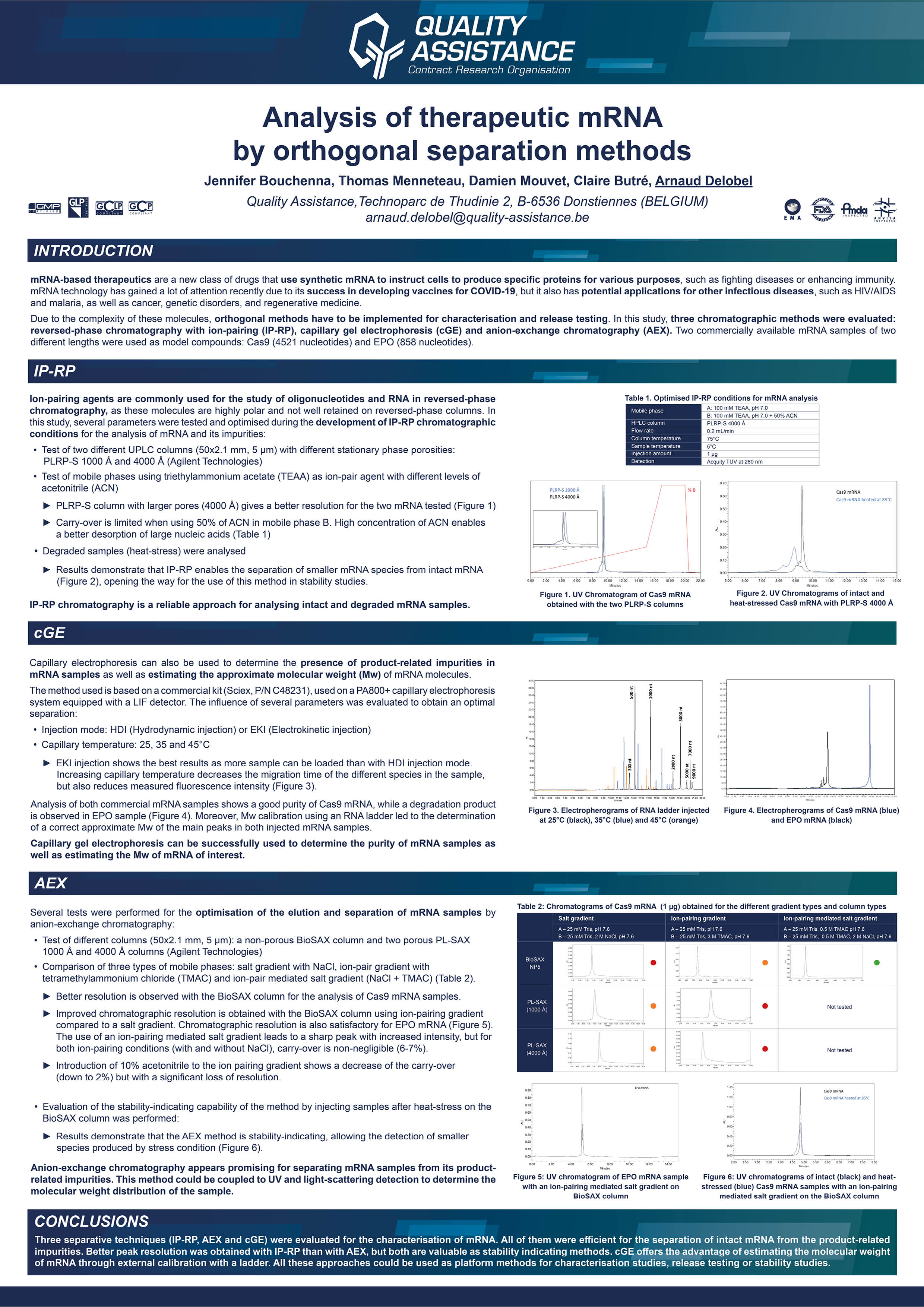 mRNA-based therapeutics are a new class of drugs that use synthetic mRNA to instruct cells to produce specific proteins for various purposes, such as fighting diseases or enhancing immunity. mRNA technology has gained a lot of attention recently due to its success in developing vaccines for COVID-19, but it also has potential applications for other infectious diseases, such as HIV/AIDS and malaria, as well as cancer, genetic disorders, and regenerative medicine.
Due to the complexity of these molecules, orthogonal methods have to be implemented for characterisation and release testing. In this study, three chromatographic methods were evaluated: reversed-phase chromatography with ion-pairing (IP-RP), capillary gel electrophoresis (cGE) and anion-exchange chromatography (AEX). Two commercially available mRNA samples of two different lengths were used as model compounds: Cas9 (4521 nucleotides) and EPO (858 nucleotides).
Three separative techniques (IP-RP, AEX and cGE) were then evaluated for the characterisation of mRNA. All of them were efficient for the separation of intact mRNA from the product-related impurities. Better peak resolution was obtained with IP-RP than with AEX, but both are valuable as stability indicating methods. cGE offers the advantage of estimating the molecular weight of mRNA through external calibration with a ladder. All these approaches could be used as platform methods for characterisation studies, release testing or stability studies.
DOWNLOAD OUR SCIENTIFIC POSTER BELOW 🔽
EXPLORE OUR ANALYTICAL SERVICES FOR mRNA-BASED THERAPEUTICS






DOWNLOAD OUR SCIENTIFIC POSTER BELOW 🔽